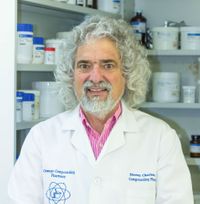 Steven Charles, RPh, FACA
Licensed in Missouri, Kansas and Oklahoma
Certificated in Hormone Replacement Therapy from the Professional Compounding Center of America.
Custom Compounding Solutions
Here at Oswego Drug Store, your family's health is our top priority and take the time to answer any questions. We offer traditional prescription filling, compounding, medication therapy management and much more.
What Our Patients Love About Our Pharmacy
Their customized compounded hormone cream saved my sanity, sleep, and sense of self. I didn't find them until a year after my hysterectomy (including removal of both ovaries) despite having tried many of the traditional hormone replacement therapies. I knew 30 minutes after my first application that I had found exactly what I needed.
You get a personal touch when you are a client of Oswego Drug. They care about you, your out-of-pocket costs and remember the specifics about your prescriptions. We got to know them through their compounding capabilities and have been a loyal client ever since.
I spoke with Stephen on the phone a few times regarding an RX I've been trying to get filled for several weeks (due to physician issues). He was VERY helpful and kind about the whole thing. He worked with my surgeon and got the issue resolved within an hour. Excellent customer service!
❮
❯
Subscribe to our newsletter 
Stay up to date with our pharmacy with exclusive content.